We make our incense from scratch from raw ingredients
We simply make our incenses in a different way. We firstly select the finest raw ingredients that would include spices, herbs, resins, fragrant woods, flower petals to name a few. These ingredients are then ground into a powder form and mixed with honey and aromatic oils to make a dough like mixture. This pliable dough is then roll onto a plain bamboo stick and coated with aromatic wood powder so that the wet sticks do not stick to each other. This is a traditional method which dates back hundreds of years and we are keeping that tradition alive.
DIPPED SCENTED CHEMICAL INCENSES  (98% of incenses are made this way – NOT OURS)
This second type of incense was developed as the short-cut method making incenses. The stick actually begins with an unscented stick which is made from sawdust and or charcoal powder mixed with a binding agent and formed onto to a bamboo stick (these sticks were originally made to light fire crackers). Usually these raw incenses come from factories in China and Vietnam that produce these sticks by the ton. The next step is to mix the fragrance oil with a diluting chemical. This is the main problem with this type of poor quality stick. In order to distribute the costly ingredient that is fragrance oil evenly over thousand of sticks, you have to find a cheap way to increase the volume of your fragrance oil in order to coat the unscented stick. The solution that most incense makers use is a diluting chemical such as diethyl phthalate (DEP) or dipropylene glycol (DPG) at about 90%, mixed with about 10% fragrance oil to increase the volume of the fragrance oil. Now the unscented is literally dipped in this chemical to produce a scented incense stick. The problem of this type of stick is that you are burning about 70% chemical oil with a small amount of fragrance. This chemical DEP or DGP is toxic and was NEVER DESIGNED TO BE BURNED thus gives the user headaches and makes eyes water. This is how most incenses are made. Many European countries have even BANNED these chemical incenses.
Now you have a better understanding of what goes into making our incenses and how they are different to most others on the market.
The following incense ranges are all made in the traditional way using natural ingredients from scratch.
---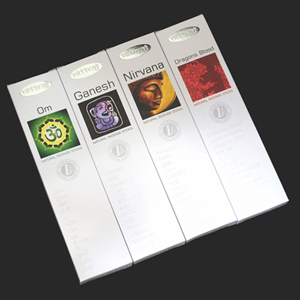 NITIRAJ PLATINUM
Nitiraj is where nature, beauty and fine fragrances come together. This quality incense is made in the traditional method of combining natural resins, herbs, aromatic oils and honey to produce fragrances that smell divine and burn very slowly (1 hour burning time per stick). Fragrances that will keep your customers coming back again and again. Each box contain 25gm of incense sticks which is approximately 15-17 sticks.
Fragrances include: Dragons Blood, English Rose, Frankincense, Ganesh, Goddess, Kama Sutra, Lavender, Meditation, Nirvana, Om, Patchouli, Prosperity, Sandalwood & White Sage
---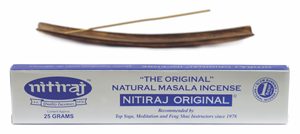 NITIRAJ ORIGINAL
This natural incense is very popular with yoga, meditation and feng shui practitioners. It's also becoming a favorite in spas. This incense is made using natural ingredients and was the first incense originally offered by Nitiraj in 1978 in the European market. Nitiraj Original has been recommended by meditation, feng shui and yoga instructors in Europe for over 38 years. Each stick burns for approximately 1 hour. A natural fair trade product that will quickly become a favorite with your customers.
---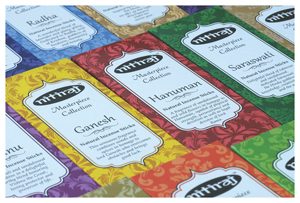 NITIRAJ MASTERPIECE INCENSE
This selection of 14 fragrances were inspired by the spiritual traditions of the East and will include many Hindu and Buddist deities names. These are masala incenses, the word masala means spice, made from scratch using natural resins, aromatic wood powders, spices and herbs combined with fine quality oils and honey. This incense is commonly used to set the mood for meditation, yoga and relaxation, first introduce in 1991 and still going strong.
This line of incenses will also come with free samples with every order for you to give away free to your customers. Once they experience the fragrance, they will be life long loyal customers.
Experience some of the finest fragrances ever created.  A natural fair trade product made in centuries old tradition.
Fragrances names include: Buddha, Chandra, Darshan, Ganesh, Hanuman, Krishna, Laxmi, Nanak, Pariloka, Parvati, Radha, Shiva, Saraswati & Vishnu.
---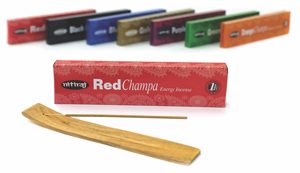 NITIRAJ COLOR CHAMPA INCENSES
Experience the quintessential champa selection made with India's finest floral champa oils. Seven distinctly different varieties from one of the world's finest incense makers. A natural honey based incense, made in centuries old tradition from scratch using only natural ingredients, never dipped. Each box contains 25gm of incense sticks and will gives you 15 hours of burning time.
---

OM INCENSES
A selection of 13 fragrances available in two sizes 15 gram and 100 gram boxes.
Fragrances include: Amber, Dragons Blood, Exotic, Frankincense, Jasmine, Lavender, Musk
Nagchampa, Passion, Patchouli, Rose, Sandalwood & Temple
---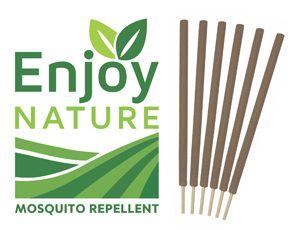 ENJOY NATURE 100% NATURAL OUTDOOR MOSQUITO STICK
Enjoy Nature is the NATURAL alternative to toxic outdoor repellents such as coils, sprays and foggers. This product is 100% natural made with natural plant oils including citronella, lemongrass, rosemary, peppermint, geranium and clove combined with wood powders and nothing else. Enjoy Nature outdoor Mosquito sticks are 100% biodegradable. It's safe for us, the environment and the wildlife.